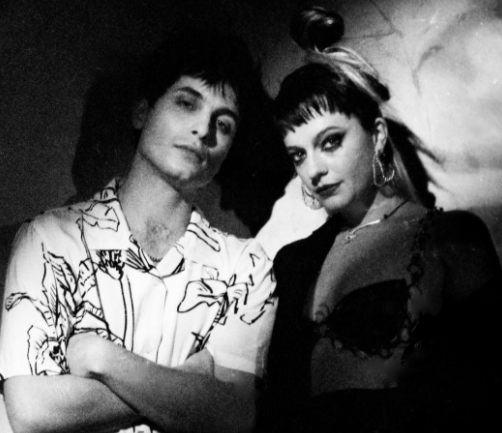 Hackney, London based duo 0171 have announced the release of their second EP 'Change Nothing', out August 14th. They're also today sharing new single "Follow". Widely praised for their futuristic, experimental approach to electronic pop, the new single follows the previously released "Automatic".
Consisting of producers/singers Joe Bedell-Brill and Georgie Hoare, 0171 are breaking down societal conundrums and complexities; all played out to a backdrop of innovative, technology-warped pop.
On "Follow" the duo were inspired by the relentlessly positive vibe of classic 90s pop (the music of their childhood). "Songs like 'Sex On The Beach' or Vengaboys' 'We Like To Party' come to mind; but we wanted to push those pop fantasies until they became sinister", Joe and Georgie said on the new single.
"Vacation, vibration / I'm happy when it kills me", Joe sings on the refrain amidst eerie electronics, lilting guitar lines and chaotic percussion. "Follow is a fantasy", 0171 went on to say. "It's all about a longing to just let go and believe that everything's fine, everything's perfect, even if you know it's a lie. This is the fantasy world that pop music provides – a world where you really can just take someone's hand and drive off into the sunset with the top down. We know it's fake, but we might as well believe in it."
The video for the track was made in lockdown by the band's longterm collaborator and friend Jake Alden-Falconer. Recreating a world of fantasy through the use of stock footage, the video is centred around a man who sinks so deep into the internet he blurs the line between himself and the perfectly happy people he finds online.
New single "Follow" is lifted from 0171's forthcoming second EP 'Change Nothing', the follow-up to their acclaimed (Dazed, Noisey/VICE, The Fader, i-D, Gorilla vs Bear, Highsnobiety) debut EP 'Red Light'.
Borne out of frustration, the new EP explores feelings of stasis, the struggle between clinging on to what brings you down, and ultimately just letting go.
0171's new single "Follow" is out now. New EP 'Change Nothing' is out August 14th.